Salon del Sol, Esperanza Spa and Hombres Barbershop are all conveniently located inside the La Hacienda Club.
The salon hosts comfortable manicure and pedicure stations as well as individual hair styling stations. We are currently open Monday through Friday, 8:30am until last appointment. Every Saturday with Mandee for nails only. Salon phone number is (520) 818-6016 Ext. 4. Call us today for your appointment! Appointments only at this time. No walk-ins.

To schedule an appointment for massage therapy please contact the massage individual listed below. The Salon does not schedule massage appointments. 
Barber
David Eisenhuth is retired from the US Air Force and has had a few career changes that has lead him to his current profession as a Certified Barber. 

Hours:
Wednesday - Friday 8:00 am - 6:00 pm
Saturday from 8:00 am - 3:00 pm
Closed Sunday / Monday /Tuesday / All Major Holidays

Contact & Scheduling an Appointment: 
Phone: 520-241-7065

or via the square application for your convenience
squareup.com/appointments/book/838XZX1PKE7DB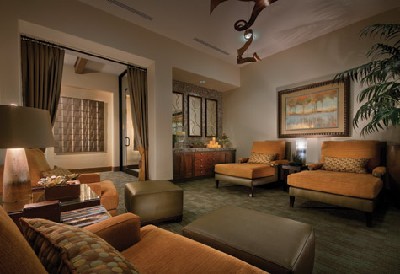 ESPERANZA SPA
Contact one of our massage therapists to set up an appointment
Kate: 520-954-7333  Email: livelife.kt1@gmail.com
BACKGROUND: I studied and graduated from the Cortiva Institute in Arizona in 2009. I participate in the post event for the El Tour de Tucson as a massage therapist to the riders. I enjoy helping people and being able to make a difference in someone's life.
Specialized treatments: I have had comprehensive training in Swedish, Therapeutic Deep Tissue Massage, Hot Stones, Facial Massage and Hydrothearpy Deep Tissue. 

Carolina: 520-999-5981 Email: caro.carlos2012@gmail.com
I am a graduate of Cortiva Institute here in Arizona. I am an avid student having taken classes for spa services for treatments such as Traditional Thai, table Thai, Ayurveda, scrubs, Hot Stones, Chi Nei Tsang, Prenatal, Facial Lymphatic, and Russian Sports massage. I incorporate Swedish, Deep Tissue, and other modalities as needed into the services. My hope and mission is to serve as a resource in improving quality of life, creating space for healing, and balance.

Denise: 520-302-5770 Email: DeniseMorganLMT@gmail.com
BACKGROUND: I graduated from Myotherapy College in 2014. I combine my certification, my continuing education and professional experience, as well the wisdom I gained with healing my own 15 year experience of fibromyalgia, as a basis for all the work that I do. I am fulfilled by my career and the nourishing healing relationships that I share with my clients. I often learn much from my clients, and as an advocate of self-care, I receive weekly massages and energy work. I also enjoy a myriad of other activities for my wellbeing, such as authentic relating, circling, playing guitar and singing, reading, learning, being in nature and being entertained.
I believe that healing occurs when the nervous system is calm and the body's posture is in alignment, to achieve this, I practice my unique approach to provide therapeutic results with a compassionate touch.

Specialized Treatments: Advanced Craniosacral Therapy, Jones Fascial Counterstrain, Spinal Touch Alignment, Reiki & Shiatsu and Kinesio Taping. I am well practiced with listening and responding to all areas of the body, mind and spirit.